There is strength in numbers. We need YOU!
We need your help to reach our goals.
Sign up to see how you can help our organization.
Subscribe to our newsletter updates.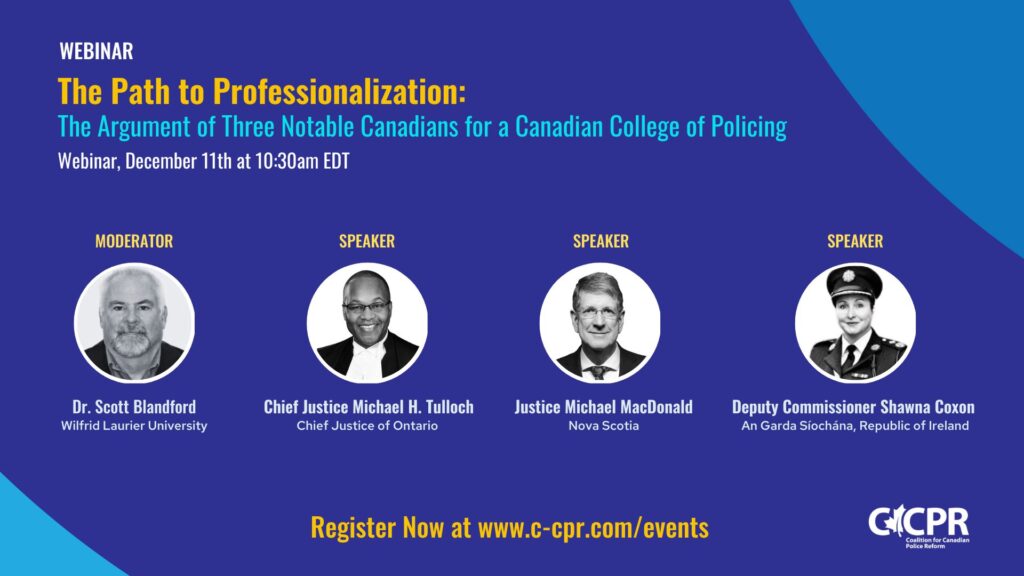 This is our signature event of the season!
The Argument of Three Notable Canadians for a Canadian College of Policing. (Mon. December 11th at 10:30 Eastern)
Dr Scott Blandford PhD, Criminologist Sir Wilfred Laurier University and former police officer will moderate:
Dr. Shawna Coxon, Deputy Commissioner of An Garda Siochana, Republic of Ireland and former Deputy Chief of the Toronto Police Service
Chief Justice The Honourable Michael H. Tulloch, Courts of Ontario and author of the Independent Police Oversight Review, Toronto 2016
The Honourable Michael MacDonald LLD (Hon), Chair of the Mass Casualty Commission, Counsel with Stewart McKelvey Lawyers, Halifax and former Chief Justice of Nova Scotia
The Board of Directors and Volunteers of C-CPR are honoured to have these three notable Canadians present.
There is overwhelming evidence of a need for transformation in how police officers in Canada are educated and trained. We bring together relevant stakeholders – citizens representing all parts of Canada and representing the diversity of our nation, police, researchers and politicians – to discuss what police officers need to know to effectively police in the 21st century. We believe that citizens reflecting the diversity of Canada should have a part to play in the police recruit curriculum.
Mission
Our mission is to achieve the creation of the Canadian College of Professional Policing through the support of community representatives, police practitioners, academics and government officials.
Notre mission est de créer un collège canadien qui favoriser le développement de la profession policière, avec l'appui et le support de représentants communautaires, de policiers, de chercheurs et de représentants gouvernementaux.
Vision
Our vision is to elevate Canadian Policing to "World Class" standards by advancing evidence-based training for both police recruits and officers, developing national standards for all entry-level police training and creating a national certification criterion for police officers.

Nous voulons proposer l'adoption de standards élevés pour la profession policière au Canada, appuyés par des programmes de formation initiale et récurrente qui seront développés sur la base de recherches empiriques, pour l'obtention d'une certification, tant pour les recrues que pour les cadres policiers.